It seems like the last school year didn't end very long ago, but it's time to start anew. At many schools the start of year is a busy time, with projects, deadlines, and hopefully not too many start-of-school headaches. It's also time to reconnect with colleagues and to start the new school year with a fresh perspective.
This month we highlight Design Thinking, which has become an important framework for learning and innovation at many schools. We also share information about ECIS iTunesU and a variety of upcoming professional development opportunities.
Please remember that your input is valuable to the entire ECIS ICT community. If you have ideas, resources, links, or information about upcoming professional development opportunities that you would like to share, please send them to me at apreis@aischool.org a week before the first day of the month and I will be sure to highlight them in the next edition of the blog.
Alan Preis
@apreis
On behalf of the ECIS ICT Committee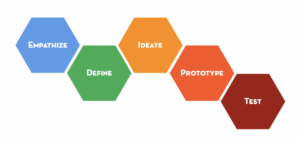 Design Thinking
Design Thinking is a framework for learning and innovation in use at some of the most creative companies and educational institutions around the world. Though Design Thinking is often used to solve problems in technology-related fields, it can be applied to many other areas. Design Thinking is based on an iterative design cycle (which may be familiar to those of you teaching at MYP schools) that encourages the application of creativity in problem solving. The cycle includes the following steps:
Empathize – Build empathy for your end user
Define – Define the design problem to be solved
Ideate – Brainstorming: Idea+Create
Prototype – Develop a working model for your idea
Test – Test your prototype and get feedback from your end user
Repeat!
For those of you interested in learning more about Design Thinking, we have included a number of links and resources in Digital Bytes (below).
ECIS ICT Committee News
ECIS iTunesU
ECIS is looking for a consultant to help promote and raise awareness of it's iTunes U page! The role would include crafting a monthly or quarterly newsletter, leading sessions at the ECIS general conference, engaging schools and teachers to help gain new participants, and finding other innovative outlets to highlight the great work found in the ECIS iTunes Courses. For more information and/or to express interest, please contact ICT Committee member and iTunes administrator Seth Hubbert (sethh@frenchamericansf.org).
Digital Bytes: Design Thinking Resources
Professional Development
EuroMoodle – Free Online Courses for Teachers and Administrators
For schools who are currently using (or would like to use) Moodle, ECIS ICT Committee member Aaron Tyo-Dickerson is offering free Moodle courses Moodle Basics (course start date: 15 September 2014) and Moodle Administration (course start date: 15 September 2014), and the courses are open to any international school teachers or Moodle administrators. The courses will be conducted on the EuroMoodle site at www.euromoodle.org/europa. To register, first create your own user account at http://www.euromoodle.org/europa/login/signup.php, then contact Aaron Tyo-Dickerson at aaron@euromoodle.org for the course enrollment key.
Mediterranean Center for Innovation in Education
The Mediterranean Center for Innovation in Education is offering a variety of institutes and workshops this fall.
The iPad Summit in Marabella, Spain (October 10-11, registrations accepted through September 19) includes over 50 presentations, panels and exploratory sessions and offers a blend of structured sessions, guided exploration, and organic, "open space" opportunities for conversations, networking, sharing and discovery.
The Fall Professional Learning Institutes in Rome, Italy (October 15-16) brings together world-class facilitators to provide opportunities in an exciting range of topics — and where possible use the setting of Rome as a canvas for powerful, experiential learning. All institutes are two-day experiences and focus on creating powerful and deep learning that translates into action for your school or learning environment.
The Google Educator Certification Workshops (Sotogrande, Spain, October 29-31, 2014, and Seville, Spain, December 1-3, 2014) are designed to walk participants through the process of becoming a certified Google Educator and, if they so desire, a fully-fledged Google Education Trainer.
Flat Connections
Flat Connections offers professional development for educators who:
Know global collaboration has a place in their classroom
Want to improve digital citizenship and cultural understanding leading to global competency amongst students and teachers
Have access to digital technologies and want to use them in meaningful ways to connect with others and learn together
Flat Connections is offering two courses starting in September: Flat Connections Global Educator, a 10-week accredited course for global connection and collaboration with a focus on curriculum design and project development, and  Flat Connections Global Collaboration Primer, a 4-week course to support teachers, leaders and administrators for deeper understanding of global connections and learning. (See the September 2014 offer on this course – TWO places for the cost of one if teachers are from the same school!) Please contact Julie Lindsay (julie@flatconnections.com) for more information.
ECIS November Conference
The ECIS November Conference returns to Nice, France on November 19-22, 2014 and will include a variety of ICT-related sessions, as well as the usual assortment of sessions relevant to all areas of international education. Full information is available on the ECIS website at http://www.ecis.org/page.cfm?p=300.
Innovate 2015
Graded School (São Paulo, Brazil) is hosting the Innovate 2015 Conference on March 4-7, 2015. The Innovate 2015 conference marks Graded School's commitment to re-imagine the school that best serves and inspires students for tomorrow. Join innovators from across the globe to engage in dialogue designed to ignite new ideas and build the foundation for change our students deserve. For more information, visit the Innovate 2015 website at https://www.graded.br/page.cfm?p=7085.
ECIS ICT Conference
Save the Date! This year's ECIS ICT Conference will be held at the International School of Brussels on April 9, 2015, as a pre-conference for this year's ECIS Administrator conference. Additional details will be posted on the ECIS website soon.